The Dome, Campus Luiss di viale Romania
---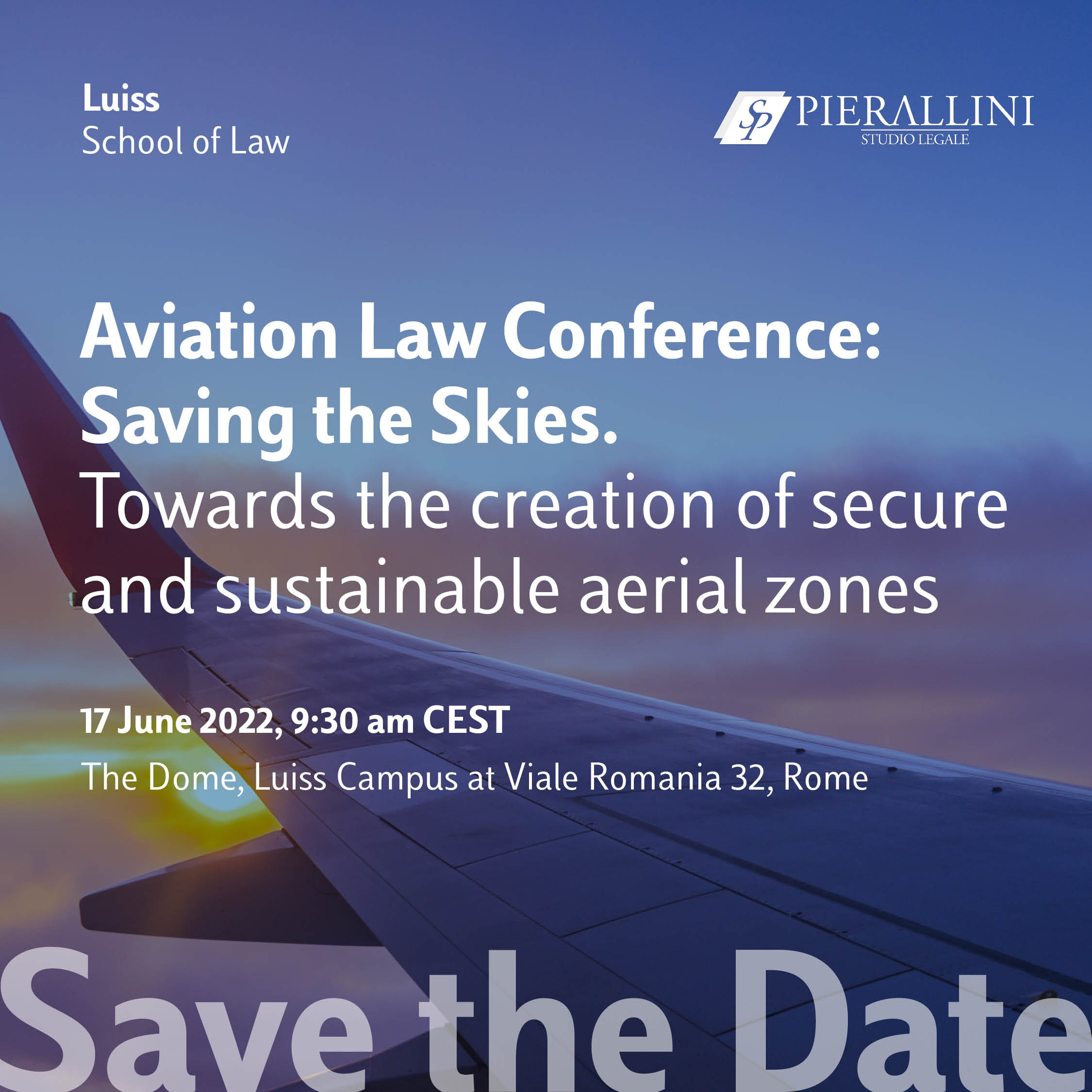 The war in Ukraine has a devastating effect on this country, and especially its citizens. As always, this tragic event also sensitively affects the aviation sector, and this in various aspects. Similar to the pandemic, causing a war against a virus, airspaces are closed. However, this time, our sector is more particularly hit by the sanctions imposed by many 'Western' States. These pertain to commercial arrangements with the aviation sector in the Russian Federation.
The conference will pay attention to the effect of sanctions on the legal and commercial aviation relations, in which energy supplies occupy a principal function. That function will be linked to the 'Fit for 55' package which the EU Commission launched in 2021.
In the afternoon, highly topical developments regarding infrastructure and current litigation cases will be discussed.
Hence, high time to attend the Ninth air law conference organised in Rome - Luiss University.
9:00 Welcome coffee
Welcoming address
Raffaele Marchetti Deputy Rector for Internationalization, Luiss University, Rome
Keynote speaker
Pierluigi Di Palma Chairman of Italian CAA – ENAC
Opening remarks
Pablo Mendes de Leon Professor of Air and Space Law, The Hague
Aviation at times of war and peace
Chairperson: Laura Pierallini Name Partner at Studio Pierallini and Luiss University
Alessio Quaranta Director General of Italian CAA – ENAC
Carlos Bermejo Acosta Head of Air Transport, EU Commission
Ignacio Tirado Segretary General, Unidroit
Mildred Troegeler Director Global Regulatory Strategy, Boeing Co.
David Bartlett Director&Counsel, PK Air Finance
Morten-Hans Jakobsen Partner, Gorissen Fiederspiel
Fit for a green aviation passport?
Chairperson: Vincent Correia Professor Public Law, Université Paris Saclay
Ann Frédérique Pothier Eurocontrol, Brussels
Robert Lawson QC Partner, Clyde & Co, London
Michiel Laumans Coordinator International Affairs at Air France/KLM
Niall Buissing Member of the Board of the Dutch Transport Law Association
Regula Dettling-Ott Attorney and Aviation Policy Advisor, Switzerland
Followed by discussion/question and answers
Lunch
A new texture for infrastructure
Chairperson: Mia Wouters Partner, GDS Advocaten, Brussels
Marco Troncone CEO at Aeroporti di Roma
Nadia Kaddouri Head of Strategy at Swissport, Zurich
Katia Avramidou General Legal Counsel at Aegean Airlines
Martijn Rijke Head of Competition Law & Regulatory at Schiphol Airport, Amsterdam
Michael Siebold Senior Partner, Arnecke Sibeth Dabelstein, Frankfurt
Filippo Modulo Partner at Chiomenti Studio Legale
Followed by discussion/question and answers
Inflation of litigation
Chairperson Maaike Lustenhouwer Lawyer ad AKD Lawyers
Claudia Hess Partner at Urwantschky Dangel Borst
Marco Marchegiani Partner, Studio Legale Pierallini
Sergi Giménez Partner at Agusta Abogados
Nikolai Ehlers Partner at Ehlers & Ehlers, Munich
Gregory Laville de la Plaigne Partner at Clyde & Co LLP
Followed by discussion/question and answers
Closing words
Pablo Mendes de Leon
Laura Pierallini
To attend the event, it is necessary to register here.
To follow the event online, it is possible to register here.